Локација: Београдска капија – Подграђе Петроварадинске тврђаве, Петроварадин
The commemorative plaque on the Belgrade Gate that symbolizes the entrance of the Serbian Army into Novi Sad on the 9th of November 1918, was primarily created out of bronze in the high relief, or rather, alto-relief technique, and was placed in 1938 as a way to commemorate the 20 year anniversary since the event. The plaque's measurements were 3.2 x 1.5 m, it was placed on the top part of the gate on the side facing Sremski Karlovci and on it was a symbolic representation of the Serbian Army entering Novi Sad, while underneath the plaque was an inscription that gave information about the symbolism of the commemorative plaque:
''On the 9th of November 1918, during the reign of King Peter I the Great Liberator, under the command of Regent Alexander, the first units of the victorious Serbian Army passed through this gate, liberating Vojvodina.''
The plaque was made by artists, who were famous in their time, Karel Baranji and Zlata Markov Baranji.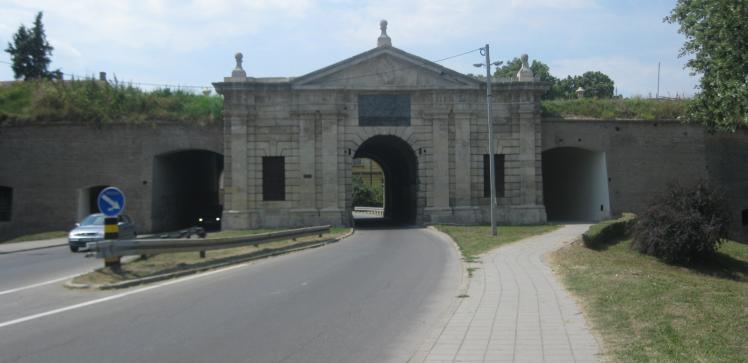 As soon as ISC (Independent State of Croatia) was formed, or rather as soon as Srem was given over to this quasi – political creation on the 11th of April 1941, members of the Ustashe government at first removed the plaque and then completely destroyed it. In that sense, this commemorative plaque connected to the First World War was the first target of the ISC government, and not long after, two more commemorative goods in Petrovaradin were targeted for destruction because of their testimony about the Serbs past, as well as an attack on the idea of Yugoslav unity that the ISC government was coordinating.
A replica of the bronze plaque was again placed in its original spot on the Belgrade gate in 2013, as part of the detailed reconstruction of this memorial and at a time of commemoration of the Day of Novi Sad, on the 9th of Nevember, whereby a festivity was held. Placing of the plaque should be viewed in the context of commemorating the 100 years since the beginning of the First World War, as well as a part of the tendency for confirmation of remembrance culture that, on a city level, keeps gaining popularity in the last two years.
Author: Kristijan Obšust